Thomas Osburg is an internationally experienced Professor,  Entrepreneur, Advisor, Publicist and former Executive Director with over 25 years of experience in leadership positions working for global IT companies (i.e. Intel and Texas Instruments) in the U.S., China, Germany and France. He has a proven track record in developing and scaling innovative strategies with high impact.
Thomas is a high-level strategic and forward thinker with major strengths to create stakeholder networks at the crossroads between Academia and Business. His sectors of expertise cover Digital Innovation, UrbanLife and Future Mobility, Sustainability, Corporate Communication, Strategic Leadership and Entrepreneurship.
During the last years, Thomas has delivered more than 80 keynote speeches and written over 40 scientific publications, he is teaching Bachelor, Master and MBA classes at leading European Universities and was elected on the Board of Directors at leading European associations.
As an Entrepreneur, Thomas established a Strategic Advisory company, a global Research Institute for Urban Live and Future Mobility and a Non-for-Profit NGO for Sustainable Development.
Quick Download  |    Bio (en) >>>   Bio (de) >>>
---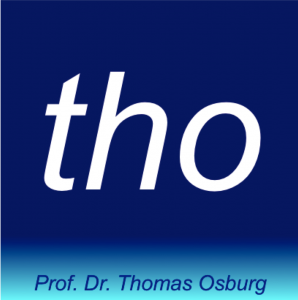 © Dr. Thomas Osburg 2002-2019