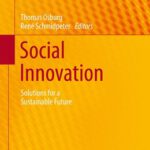 ​
Social Innovation is becoming an increasingly important topic in our global society. Those organizations which are able to develop business solutions to the most urgent social and ecological challenges will be the leading companies of tomorrow.
Social Innovation not only creates value for society but will be a key driver for business success. Although the concept of Social Innovation is discussed globally the meaning and its impact on the development of new business strategies is still heavily on debate.
This publication has the goal to give a comprehensive overview of different concepts in the very innovative field of Social Innovation, from a managerial as well as from a theoretical and social perspective. Over 30 leading thinkers in the field of Innovation, Strategic Management and Organizational Development give a well structured inside on the latest developments and progress in the field of Social Innovation.
Thereby the authors not only develop a comprehensive and unique analysis on the state-of-the art of social innovation but also give practical advice and information to business leaders on how to apply the latest management thinking on Social Innovation to daily business decisions.
This publication has the intention to become a milestone in the further development of the concept of Social Innovation as well as to further stimulate new business strategies necessary to overcome world most pressing social and ecological challenges.