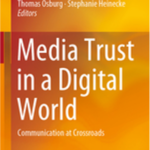 by Thomas Osburg and Stephanie Heinecke
In today's world, trust becomes a phenomenon, a new paradigm, and maybe a buzzword. A lot of people talk about it, in business, NGO's media, and govern- ment. Trust, as often said, is the new glue, holding together societies and the way we live and work. Especially in times when technology and digitalization become more and more important, a closer look is needed on what role trust will play. Digitalization and technologies can offer tremendous help and new opportunities for societies and people and solve problems in areas like health, education, inclusion, and environment—but also lead to new challenges like job security or responsibility of robots.
Download (pdf) Table of Content here
This book was a major undertaking at international levels, looking at concepts and question of trust in communication beyond traditional thinking. It is about Digital Worlds and New Technologies, but actually goes deeper. We have a lot of contributions highlighting challenges with trust in Digital Worlds that are often overlooked and ignored. We look at linguistic analysis and communication changes in general. We look at industries like the financial industry, or sectors like social entrepreneurship. And we look at concepts like branding, where brand trust is a common phenomenon to be successful.
We know that in today's world, trust is partially declining and that it plays a different role than what it used to. Artificial intelligence and computer algorithms will add to a level of complexity that often goes beyond the understanding by most people. Trust, as we know from the sociologist perspective, often is a mechanism to reduce that complexity. If we do not understand anymore what computers and machines decide, how can we build trust in so-called Smart Societies? We need to look at trust in urban living and future mobility spaces, as this impacts how we live and work together in the future. And we need to look at new competencies that are needed and how to build up that level of trusted competencies.
Read more about the individual chapters here.
The editors sincerely hope that you enjoy this book as much as we did when bringing all these top-level authors together. We would like to thank them for their professional insight into very specific topics of Media and Communication Trust in Digital Worlds.
December 2019, Munich, Germany
Prof. Dr. Thomas Osburg & Prof. Dr. Stephanie Heinecke
Link to Springer >>