KeyNote Speeches and Impulse Inputs
Thomas is an internationally sought after speaker with excellent reviews and feedback. In his keynote speeches and panel discussions, he focuses heavily on the huge potential that digitalization offers and attempts to stimulate and inspire the audience.
His approach is above all to ask new questions. The audience should continue to think and apply what they have heard once they are back home.
Numerous up-to-date and relevant best practices from business, from well-known companies to surprisingly successful start-ups, complete the picture of a successful presentation.
Thomas focuses on impulse-inputs that encourage reflection. "Pure knowledge transfer is important, but not sufficient," he is convinced.
His lectures are extremely customer-oriented and adapted to the respective situation.
In terms of topics, one focus is on effects of digitalization on business models. This includes inspiration for new businesses, relevance for branding and management, for radical changes in the innovation process and for eye opening facts about new technologies. Beyond the pure technology, however, the acceptance and impact on customers and citizens are always important in his speeches. "New solutions often lead to a loss of institutional confidence among the population. Many times, innovations are not understood by the citizens and it remains unclear, how they can offer concrete added value," says Thomas.
Major topics for keynotes include (but are not limited to):
Innovation Strategy and Processes
Digital Sustainability and Corporate Responsibility
Corporate Communications and Brand Management
Innovation Marketing and Scaling potential
The New Role of Trust in Digital Worlds
Entrepreneurship, StartUps and Social Impact Business
Leadership and Change Management
For all inquiries please simply send an email to thomas@thomasosburg.com
I am looking forward to your feedback!
*****
Below is a list of some major conferences, where Thomas was invited as KeyNote Speaker or Panelist. The full list can be downloaded here >>
---
Participation as Keynote Speaker or Panelist
2017-2019
Download complete list (2008-2017) here >>
Coming Up…..
Ekate

rinburg, Russia (Apr 17-19, 2019): 

Spring Research Days at GSEM >> Leading the 

International Research Workshop of the Laboratory for International and Regional Economics.

London, UK (May

22, 2019): ABIS Knowledge into Action Forum >>
Berlin, Germany (Oct 29-30, 2019): ABIS Annual Colloquium @ ESMT >>
---
2019
2018
Brussels, Belgium (Nov 20, 2018):  #ThinkDigital2018 Summit. Unleashing the Potential of Digitalization >>
Brussels, Belgium (Nov 09, 2018): 17th ABIS Annual Colloquium. Sustainability as a Business Opportunity. Keynote: "Digitalization and Trust Building". Solvay, Brussels. >>
Munich, Germany (Oct 24, 2018): Kuratorium Hochschule Fresenius. Panelist: Ethics and Values in Academia and Business. >>
St. Petersburg, Russia (Oct 04-06, 2018) | Graduate School of Management, St. Petersburg University – 5th International Research GSOM Emerging Markets Conference 2018
Barcelona, Spain (Jul 02-03, 2018)  | IESE Business School – 20th IESE International Symposium on Ethics, Business and Society >>
Copenhagen, Denmark (Jun 11-12, 2018) | Copenhagen Business School (CBS) –  6th biennial International Symposium on Cross-Sector Social Interactions (CSSI 2018) >
Berlin, Germany (Jun 04, 2018) | Nachhaltigkeitsrat (RNE) – Annual Conference >>
---
2017
Brussels, Belgium (Nov 15-16, 2017)  |  'The End of Business Schools? Digital risks & opportunities in Education', Annual ABIS/EU Colloquium >>
Sochi, Russia (Oct 26-28, 2017) | 9th German-Russian Young Leaders Conference. Keynote Future of Education >>
Brussels, Belgium (Oct 11-12, 2017) | Third Sustainability & Innovation Conference: Connecting the future – ICT and the SDGs. Dinner Keynote Speech. >>. 
St. Petersburg, Russia (Oct 05-07, 2017)  |  International Research Conference "GSOM Emerging Markets 2017". Presentation of Research Programs >>
Eichstätt, Germany (Jun 24, 2017)  |  Wertorientierte Führung und Digitalisierung – ein Oxymoron? Festrede Universität Eichstätt-Ingolstadt >>
Geneva, Switzerland (Jun 23, 2017)  |  Beyond CSR: Social Innovation in a Digital World, Université de Genève >>  Flyer >>
Berlin, Germany (May 29, 2017)  |  'Digitalisierung – Fluch oder Segen für Nachhaltigkeit?', Keynote at "Jahreskonferenz des Rats für Nachhaltige Entwicklung" > PR here > Speech of Chancellor Dr. Merkel here
Vilnius, Lithuania (May 24, 2017)  |  'The Digital Business Case and Society in Eastern Europe', Opening MBA Program ISM Business School  >
Brussels, Belgium (May 10-11, 2017)  |  'Beyond SDG's – Research and Vision of Business Schools', ABIS – Knowledge into Action Forum >>
Berlin, Germany (Apr 04, 2017)  |  'Vertrauen in Digitalisierung', Extraordinary Future Forum (bwa)  >> >> Video >>
Munich, Germany (Mar 09, 2017)  |  Deutscher Innovationsgipfel 2017 >>
---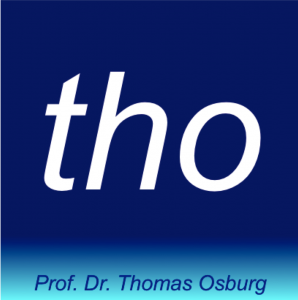 © Dr. Thomas Osburg 2002-2019