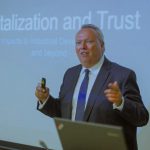 Prof. Dr. Thomas Osburg
Thomas Osburg is Professor for Sustainability, Innovation, Entrepreneurship and Strategic Marketing at the Fresenius Business School in Munich >. He is also 'Dean of Studies for & Mobility Economy' and head of the 'Competence Center Entrepreneurship'. 
In 2015, he set up Provoix International > , a global advisory company on Impacts of Digitalization and in 2018 he founded the Trivelas Research Institute >, an International ThinkTank and Research Institute, focussing on Sustainable Urban Mobility and the impact for Business and Citizens. He is actively supporting StartUps through the initiative TrinnolaNet > and runs a very succesful blog on Urban Mobility called moov'inStyle >. 
Prior to that, Thomas worked more than 25 years for global IT companies (Texas Instruments, Autodesk and Intel Corp. >) in France, the U.S., China and Germany. He held various International Management positions in the areas of Strategic Innovation & Leadership, Sustainable Marketing,  Corporate & Brand Communication and Sustainability.
Thomas is on the Board of Directors  for ABIS (Academy of Business in Society, Brussels >) and was appointed into various Scientific MBA Committees at leading European Universities, where he is frequently teaching MBA classes >.
He has published several books and written over 40 scientific contributions for leading European journals. His latest books "Sustainability in a Digital World" > (Springer, 2017) and "Media Trust in a Digital World" > (Springer, 2019) are among the best selling books in the category. Both books bring together thought-leader thinking from nearly 50 academic experts, politicians and high level business representatives on how to align Digitalization with Sustainability and the impacts of Digitalization on Communication. 
Thomas holds a Ph.D. (Dr.rer.pol.) degree in Marketing, Business Administration and Economics from the University of Hannover (Germany). Part of his studies were also done at Baylor University in Waco, Texas (USA) >>
---
© Dr. Thomas Osburg 2002-2020